A new hospital cafe-restaurant brand—La Brunchería—has made the most of one of Panespol's® most successful panels as part its fresh, modern image.
The stylish, bright appeal of a uniform rustic white brick has been built into an interior design to provide a winning contrast with sober browns and Prussian blue, an elegant look a long way from the aseptic health facility aesthetic of days gone by.
In addition to the panel chosen for La Brunchería—PX-097 9016 Rustic Brick 9016—Panespol® offers a salutary range of other colours for this model.
This particular project was put together by the construction and services firm Grupo Fontavela on behalf of Sodexo, the global player in services for health and education, among other areas.
Spokesman for Fontavela, Miguel Ángel Herrero, underlined that Panespol's® input to the public cafe at Madrid's Fuenlabrada Hospital had fully met expectations and set the tone for similar panel use in further Sodexo projects. The La Brunchería formula will be repeated in other hospitals in Spain.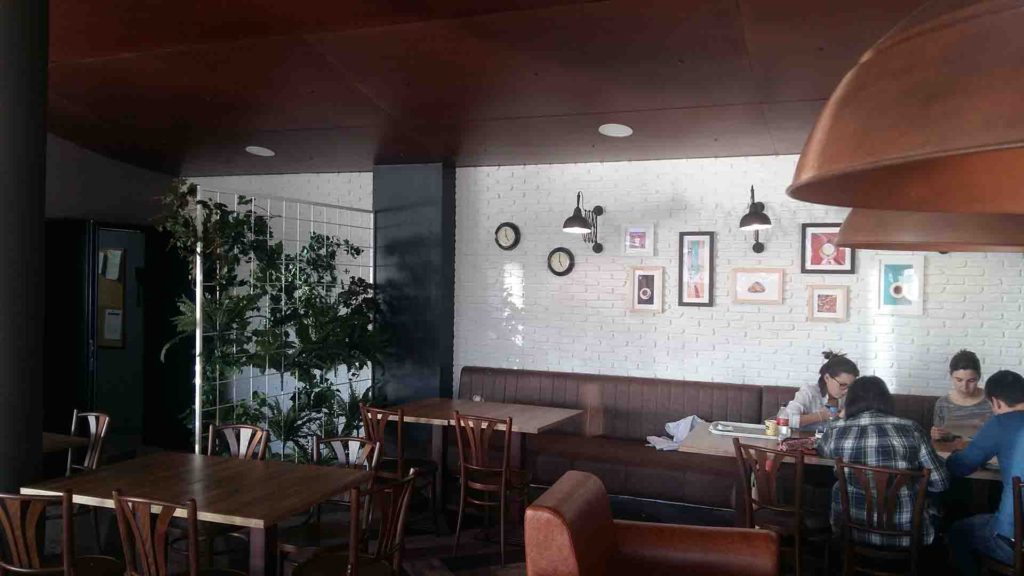 "It worked really well, and they were very happy and want to repeat the experience as they set up more restaurants with these kind of finishes," says Herrero.
Besides our huge catalogue of light, easy-to-assemble wall coverings, we have a new LAB service to meet designer's and architect's requirements for ANY KIND OF DISPLAY OBJECTS, not just surface coverings but in 3D AS WELL.