Historically and often, architects, designers and interior designers prefer a real finish to an imitation. If the customer can afford it, a natural wood would be recommended rather than an imitation. But a new era is upon us, and that's why we're asking a challenging question: 
how do we stand out from the crowd? In other words, how do we make our own unique mark on a design?

At Panespol, we get to work and follow the latest interior design trends in order to offer avant-garde and completely unique designs with maximum personalisation for our customers.

Although trends change little by little like landscapes, 2020 was a year marked by the fateful pandemic, so the impact it had on the world of interior design is clear to see. Colour palettes, styles and even the use of new textures and materials changed quicker than usual, especially due to the lockdown.

1. Style
In terms of style, after a long period of minimalism, the focus is on more constructed, elegant and, of course, sophisticated atmospheres. This is the neoclassicist style. Without garish flashiness, environments with a luxurious appearance and a formal accent, detailed and symmetrical lines are sought, aiming for a sense of spaciousness and cleanliness.

Making the most of this classical inspiration, eclecticism blends in beautifully, daring to mix objects from different periods and styles, odd pieces of furniture and accessories, adding a sense of optimism to the elegance.

Minimalism's retreat into relaxation and playfulness has melted straight lines into curves, dominating as an architectural style. Rounded and soft lines create a dynamic and smooth space with the idea of creating cosy, attractive and unique atmospheres.

This trend can be seen in furniture that seeks relaxation with an almost aquatic fluidity. Crescent shapes, circular rugs, sofas, armchairs, mirrors, cupboards, with organic and floral silhouettes.

As an extreme of this trend, it creates a new surrealism, boldly playing with scale and size, unexpected, absurd and bizarre details.
2. Colours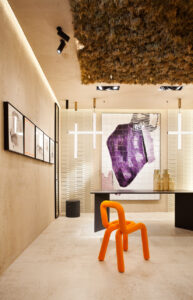 Looking at colours, the much-used nuclear white has been replaced by nostalgic, natural and earthy tones. Examples are rusty brick, bluish or emerald green, creamy midnight blues. These colours offer a calming effect and are associated with nature. Neutral colours, stone grey, wild wheat, sand or the aforementioned powdery earthy tones are favoured, which, together with rusty browns and caramel colours, create a calm, cosy and warm atmosphere.

To complement these, colours ranging from blood red to terracotta, romantic mauve, peach and coral are also competing for the top spot on the podium. There is also a preference for silver touches for detailing, leaving gold to one side.

Although to a lesser extent, blues and greens also play an important role in the décor in many interiors, bringing peace and tranquillity to the refuge of our homes. Similarly, the powerful combination of black and white, especially in kitchens, bathrooms, worktops and living room furniture, is becoming an increasingly popular way to add a touch of elegance and personality.
3. Eco
To the sense of home caused by the lockdown, to the tiredness of cold, Nordic design, there is also an added sense of environmentalism or naturalness. People want to coexist with nature. For example, stones, mosaics and terrazzo have a strong presence in bathrooms and kitchens. It is a revival of the brutalist past, but with a softened approach, incorporating natural elements such as wood, plants, materials and the aforementioned stone.

It is evident that nature plays an important role in current trends. The presence of organic shapes, floral prints, the celebration of imperfect beauty, are not only trendy, but will continue in a future oriented towards new ways of living in accordance with sustainability and a love of nature.
4. Coatings
Moving on to coverings and walls, in keeping with what has been said so far, the aim is to make the most of their decorative potential. Coatings of all kinds are once again becoming the dominant trend, offering infinite possibilities to make each room your own.

Focusing on imperfections as a source of beauty, the Japanese trend known as "Wabi-sabi", shows its maximum expression on the walls with the use of textures: stone, fabrics, woodwork, wickerwork, which confer authenticity and personality.
The Panespol team can't help but be excited by these trends which, in some cases, seem to depict us. Enthusiasm that also translates into full commitment and conviction to live up to the quality, design, functionality and price that these new trends require.

So, going back to the beginning, can we help you stand out from the crowd?